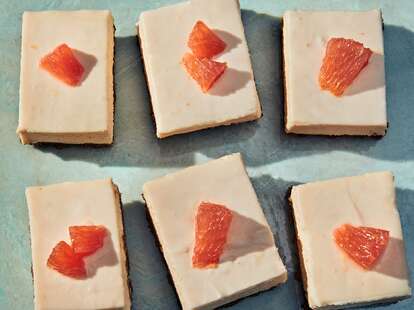 I discovered Claire Saffitz's recipe for an Easy Sheet Cake with Chocolate-Cream Cheese Frosting after binge watching her YouTube videos (for mental health!). It was exactly what I wanted: something simple, classic, and comforting. Later that evening—my 30th birthday, celebrated solo at the beginning of the pandemic in April 2020—I blew candles in front of an audience of Zoom windows on my laptop and later ate forkfuls of cake from the fridge over the course of the week. That cake provided a sweet respite during a period of great uncertainty.
Saffitz has harnessed this joy that dessert can offer in her new book, What's for Dessert. It's a true love letter to that sweet bite you crave after a meal and includes recipes that can please a crowd or be savored alone. She emphasizes hallmark desserts imbued with a touch of nostalgia, like Peach Drop Biscuit Cobbler, Chocolate Soufflés, and a Tiramisu-y Icebox Cake.
What's for Dessert follows Saffitz's first cookbook, Dessert Person. Her legion of fans, myself amongst them, eagerly anticipated this book in 2020. They find comfort in the reliable advice Saffitz offers as a video host for Bon Appetit, the New York Times, and her own YouTube channel. Dessert Person includes recipes for novice bakers, but doesn't shy away from projects like Croquembouche or Kouign-amann that prove challenging for even the most experienced cooks.
In her new book, Saffitz sets out to make her recipes more accessible. She evaluated the reception of Dessert Person and observed what recipes readers made most. "What I took to heart was the kind of desire for more simple recipes," shares Saffitz, "and more kinds of recipes for people in different life stages and with different tastes and skill levels." Although Saffitz has a special talent for guiding readers through projects, none of her new recipes rise to that challenge. They range in difficulty level from 1 (Very Easy) to 3 (Moderate). Additionally, none of them require the use of a stand mixer, and only half call for an electric hand mixer.
What's for Dessert reminds readers that not all desserts involve baking. You can make them on the stovetop, or even in your freezer. Saffitz admits the book's first chapter, "Chilled and Frozen Desserts," is one of her favorites because it allowed her to delve into an underexplored category. "I love being able to create new textures that you don't get as much from baking," says Saffitz. She leans into the power of eggs and cream to produce velvety desserts, like a Marbled Mint Chocolate Mousse, that showcase airiness and creaminess.
The chapter also allowed her to express a fondness for the tart-bitter flavors of grapefruit. "I knew from recipe testing in the past that all the things I love about the flavor get diminished when baked," states Saffitz. Her No-Bake Grapefruit Bars celebrates the citrus's floral flavor in a whipped filling on a graham cracker crust. Despite its name, the recipe calls for a simple blind baking step to firm the crust. You top it with a creamy filling and put it in the fridge to set. I've made these bars myself and know I'll revisit them in peak grapefruit season this winter.
Playfully designed with a retro flare, this book will inspire you to find a cause for celebration. Saffitz hopes it will bring together her growing community of dessert people: "I wanted the book to be about not just the making of the dessert, but the sharing of it too."
No-Bake Grapefruit Bars
Yields 12 bars
Ingredients:
• Melted butter for the pan
• 6 ounces (170g) graham crackers (about 11 sheets)
• 5 tablespoons unsalted butter (2.5 oz / 71g), melted and cooled
• 2 tablespoons plus ½ cup sugar (4.4 oz / 125g)
• Several pinches of kosher salt
• 1⅔ cups heavy cream (14 oz / 400g)
• 1 tablespoon finely grated grapefruit zest
• ½ cup fresh red grapefruit juice (4 oz / 113g), from about 1 medium grapefruit
• 3 tablespoons fresh lemon juice, from about 1 medium lemon
• 1½ teaspoons vanilla extract
• 8 ounces (227g) cream cheese, chilled
• 1 medium red grapefruit, for serving
Directions:
1. Preheat the oven and prepare the pan. Arrange an oven rack in the center position and preheat the oven to 350°F. Line an 8 × 8-inch baking pan, preferably metal, with foil, working the foil carefully into the corners and pressing it firmly against the sides to eliminate air pockets, and smoothing any creases. Brush the bottom of the foil with a thin layer of melted butter. If you're using a glass pan, note that those tend to have narrower bases and rounder sides, so your bars will be taller and a little less square.
2. Make the crust. Place the graham crackers in a resealable bag, press out the air, and seal. Use a rolling pin or heavy-bottomed saucepan to crush the crackers, periodically shaking the bag so the larger pieces settle to one side, until you have very fine, uniform crumbs. (You can also pulse them in a food processor until finely ground, but it's very doable by hand.) Transfer the crumbs to a medium bowl and add the melted butter, 2 tablespoons of the sugar, and a pinch of salt. Toss with a fork until the mixture is well combined, then rub it between your fingertips until it looks like wet sand.
3. Press in the crust and bake. Transfer the mixture to the prepared pan and use the bottom of a 1-cup dry measure or glass to flatten it into an even, compact layer. Place the pan on a sheet pan and bake until the crust is fragrant, firm to the touch, and dark brown around the edges, 13 to 18 minutes. Remove from the oven and let cool completely.
4. Reduce the cream. In a large saucepan, combine the cream, remaining ½ cup (3.5 oz /100g) sugar, and a pinch of salt and bring to a boil over medium-high heat, stirring to dissolve the sugar. Reduce the heat to maintain a lively simmer and continue to cook, whisking occasionally, until the mixture is reduced to 1¼ cups, 10 to 15 minutes (pour it into a heatproof liquid measuring cup to check the volume, then return to the saucepan and continue to reduce if it's not there yet).
Potential Pitfall: Keep an eye on the cream mixture, as it will boil over quickly and make a mess. Once it boils, take a minute to regulate the heat and find the level where the mixture is simmering vigorously but not boiling. If it does start to boil over, immediately remove the saucepan from the heat and blow on the surface to make it subside.
5. Chill the cream mixture. Remove the saucepan from the heat and set aside. Fill a large bowl about a quarter of the way with ice water and place the saucepan inside, making sure that the water level hits below the top of the saucepan. Let it sit, whisking occasionally, until the mixture is cold, about 5 minutes (chill in an ice bath).
6. Make the filling. Remove the saucepan from the ice water and stir in the grapefruit zest, grapefruit juice, lemon juice, and vanilla, then set aside. Empty the bowl of ice water, dry it, add the cream cheese, and beat with a hand mixer on medium speed until the cream cheese is smooth. Add a couple tablespoons of the cold cream mixture and beat on medium to incorporate, then continue to beat the cream cheese, gradually adding the cream mixture, until you have a smooth mixture. Increase the speed to medium-high and beat until you have a very thick, whipped filling, about 3 minutes.
Potential Pitfall: If, despite adding the cream mixture slowly and beating constantly, your filling has lumps of cream cheese, use a blender to smooth it out. If you find that your filling isn't whipping, it might not be cold enough, so refrigerate it until cold.
7. Fill the crust. Scrape the filling into the cooled crust and use a spatula to work it all the way to the sides and into the corners, taking care not to form any air pockets, then smooth the surface. Cover and refrigerate until the filling is set, at least 4hours.
8. Top with fresh grapefruit and serve. Use a sharp knife to cut away the peel from the whole grapefruit (discard) and slice the grapefruit crosswise into ½-inch-thick rounds, following the instructions in Cutting Citrus on page 357. Then, using your fingertips and working one round at a time, gently separate the individual fan-shaped pieces of grapefruit from the membranes (discard the membranes). Remove the pan from the refrigerator, uncover, and use the edge of the foil to lift the bars out of the pan and transfer to a cutting board. Slice the slab into a 3-by-4 grid, forming 12 bars. Dividing evenly, top the bars with the pieces of fresh grapefruit and serve.
Can I . . .
Make them ahead?
Yes. The unsliced bars can be covered and refrigerated in the pan for up to 5 days but are best served by the third day to prevent the crust from becoming soggy. To store leftover bars, remove the pieces of fresh grapefruit, transfer the bars to an airtight container, and refrigerate for up to 3 days.
Make it gluten-free?
Yes. Use a brand of gluten-free graham-style crackers for the crust.
Use a stand mixer instead of a hand mixer?
Yes. To make the filling, beat the cream cheese in a stand mixer fitted with the paddle attachment on medium speed until smooth, then very gradually stream in the cold cream mixture, beating constantly, and proceed with the recipe as written.
"What's For Dessert?" Copyright © 2022 by Claire Saffitz. Photographs copyright © 2022 by Jenny Huang. Published by Clarkson Potter, an imprint of Random House."
Adrian Zuñiga is an art dealer by day, home cook by nights and weekends. When he's not planning exhibitions, he'll find any excuse to make food for friends and family. Follow his dispatches from the kitchen on Instagram: @_dinner_plans.