9 Exciting New Restaurant Openings in LA to Try This Weekend
This weekend's dining plans include a luxe British pub in Hollywood, a chic Paris import, and a full-service return for hot chicken royalty.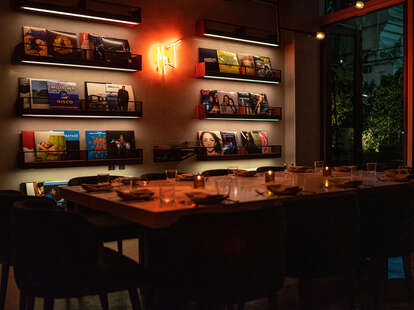 Photo by Innis Casey, courtesy of Mr. T
We're finally in the best time of the year in LA, with better weather, a new mayor, holiday parties right around the corner, and plenty of fall road trips still ahead. Restaurant openings aren't seeing any slowdown either, with exciting new spots all across town, including a moody new pizza lounge in Culver City, the return of craft beer in the Downtown Dankness Dojo, a KTown legend reborn, and a whole collection of thrilling spots. Here are nine of the most exciting new restaurants you need to try in LA:
Hollywood
There's been no lack of glitz and glamor in Hollywood's Vinyl District over the last couple of years, but with flashy openings like Mother Wolf, Mes Amis, Ka'Teen, and more, the area is a little short on welcoming, casual options. The Chap, the new English-style pub from local impresarios Ten Five Hospitality, aims to change that. There will be Bangers & Mash, Fish & Chips, a Sunday Roast, and a wide selection of English and Continental European beers, along with a full bar with specialty cocktails. That's not to say The Chap will be at all humble—the custom walnut wood paneling, leather, and brass accents will keep things plenty luxe, as will the lush outdoor patio inspired by an ivy-draped Victorian garden.
How to book: Bar and garden for walk-ins only, dining room reservations available on Resy.
Pasadena
If you felt a tingle of heat race across your palate like a disturbance in the force this week, you may be a chile head—Howlin' Ray's is back to posting line updates on social media. One of the city's best Nashville Hot Chicken stands is finally open at their Pasadena restaurant, where you can get the full-service, dine-in experience for the first time since their pandemic pivot to Postmates at their Chinatown restaurant in 2020. The food menu is the same in Pasadena, but there's way more seating both indoors and out, and more space in the kitchen—which should mean shorter wait times. There is also beer and wine, and the team anticipates adding some rotating specials in the future.
How to book: Walk-ins only for now, Postmates pickup and delivery still available from Chinatown.
Culver City
Verace Pizza Napoletana certification isn't the end-all be-all of pizza quality, but it does say something about how seriously a restaurant takes its pizza. The Lounge at Ugo, the moody, stylish, VPN-certified new bar in the heart of Culver City, takes everything as seriously as it takes its pizza. That means a tight cocktail list split between sharply executed classics like negronis and spritzes and a set of modern specialty drinks with carefully balanced flavors. The menu is similarly focused, with drink-friendly appetizers like Meatballs and Portobello Fries, those Neapolitan pizzas, and a few desserts, including house-made gelato.
How to book: Walk in or call 310-204-1222.
Downtown
The radical, employee-owned brewery and coffee roaster Modern Times was nothing if not ambitious, opening brewpubs all over the West Coast before radically downsizing in April and then going through a court-ordered sale in June. The Downtown LA location, christened the Dankness Dojo, was massive and wild, with garish decorations, a full coffee bar, a large brewing system, and plenty of seating, and it had been sitting empty for months when the team behind the craft beer bar Native Son reached out. After a remodel, they have now officially reopened the space as Native Son DTLA, with 35 taps of craft beer, a long list of fun spritzes, and a menu of elevated pub-food classics. They're also putting that brew system to good use, with a forthcoming set of house-made beers from Head Brewer JP Boudwin, a welcome holdover from the Modern Times days.
How to book: Walk-ins only.
Los Feliz
Some people go to Hawaii for warm ocean water, relaxing beaches, and lush jungles—and some of us go for Hawaiian shave ice. But now one of Maui's best shave ice shops has added a franchise on the mainland, right along Hollywood Boulevard on the edge of Los Feliz. The impossibly light, finely shaved ice is here, with Ululani's natural cane sugar syrups in flavors like passion fruit, Li Hing Mui, or pickled mango, and topped with toasted coconut or fresh mochi. Parking on that stretch of Hollywood kind of sucks, but it's still easier than a flight to Maui. Usually.
How to book: Walk-up only for now.
Hollywood
International expansion can be tricky, but Mr. T's jump from Paris to Hollywood has a lot working in its favor—the restaurant lands in the heart of the increasingly cool Sycamore District, the design is as chic as you might expect from a Paris import, with a sleek and thoroughly executed modern minimalist aesthetic, and chef Alisa Vannah is an LA native who worked in some of the best kitchens in town (Mozza, Tsubaki, Republique) and trained with chef Tsuyoshi Miyazaki, who runs the kitchens in Paris, before coming back to LA to open this location. The menu features global flavors rooted in modern French techniques, as in the Croquettes Monsieur with portobello mushroom, and the Striped Bass with Miso Sabayon. The cocktail program is all modern, with infusions, foams, pop rocks, and boba in, on, and around various drinks; the wine list, on the other hand, is an elevated classic, curated by restaurateur Guillaume Guedj and sharply focused on Bordeaux and Burgundy.
How to book: Reservations available on OpenTable.
Koreatown
The original Jun Won was an institution in Koreatown, open for more than 25 years before the COVID pandemic forced it to close in the middle of 2020. Now, just over two years later, the mother-son combination of Jung Ye and Jeff Jun have reopened a streamlined, takeout-focused version of their beloved spot just a stone's throw from their old restaurant space. They've pared the menu down to just four essential dishes, the ever-popular Galbi-Jjim, the chicken stew Dakdori-Tang, the celebrated black cod Eun-Daegu, and the piece de resistance, their magnificent ginseng chicken soup Samgye-Tang.
How to book: Walk-ins only for now.
West Hollywood
There is a long and storied tradition of East Coast transplants complaining about the things they miss from back home. There is a much shorter tradition of transplants actually doing anything about it—but Ggiata owners Noah Holton-Raphael, Max Bahramipour, and Jack Biebel are a rare breed. The three New Jersey natives with a hankering for delicatessen culture took matters into their own hands, opening Ggiata as a ghost kitchen sandwich shop in early 2021. Just a year and a half later, they have seen a ton of success built on the backs of their excellent Jersey-Italian-style deli sandwiches, including several high profile collabs with spots like La Morra pizza and Future Farm plant-based meats. The new West Hollywood location, their second brick-and-mortar that serves as a flagship, features an expanded menu and a market section for sauces and pantry items, with beer and wine to come.
How to book: Order online through their website.
West Hollywood
Though each of its locations looks quite different from the others, somehow all three outposts of Great White capture the same sort of romanticized coastal cool, a casual but refined charm that would be equally at home in the background of a photoshoot in LA, Australia, or the Aegean Sea. The new West Hollywood location is a wholly new 5,000-square-foot space with plastered walls, soft lights, rough-hewn touches, and the perfect dusty-pink facade. The all-day menu is effortlessly chic in much the same way, the kind of thing you could breeze through for a light brunch or dive into for a lovely dinner party, featuring Crispy Fish with roasted broccolini and Chicken Shawarma with wood-fired pita. This Great White, of course, also has the group's signature wood-burning pizza oven and an excellent natural wine program.
How to book: Walk-ins only during the day, dinner reservations available through Resy.
Ben Mesirow is an Echo Park native who writes TV, fiction, food, and sports. At one time or another, his writing has appeared in The
LA Times
,
Litro
,
McSweeney's Internet Tendency
,
Los Angeles Magazine
, and scratched into dozens of desks at Walter Reed Middle School.