10 Best Dallas Drinking Neighborhoods Ranked
Shots! Shots! Shots! (and more).
Heading out on the town in Dallas often leads to exciting adventures with new fun-seeking friends ready to make the absolute most of the weekend—or random Tuesday afternoon on a rooftop patio. But, as you know, this is one sprawling city. More than 385 square miles for the City of Dallas all on its own, not even counting a single suburb or our sister to the west, Fort Worth. So for the sake of this drinking guide, we're focusing solely on Dallas neighborhoods that have multiple bars in one walkable area so that you can catch Uber, Lyft, or Alto (or kindly beg one of your pals to be a designated sober driver) and stick to one district for the entire time. And because nobody should have to wait until New Year's Eve to scream numbers in reverse order, here's a breakdown of our 10 favorite Dallas drinking neighborhoods from great to G.O.A.T.
10. Design District
What for decades was a sleepy, industry-only haven for interior designers to shop for high-end furniture and accessories for their wealthy clients has become a destination entertainment district in recent years with some top-notch restaurants and bars, each running the gamut from super-casual to fancy-pantsy. Have your car drop you off at Virgin Hotels Dallas and start with a drink at The Commons Club or up on the pool deck (weather and season permitting). From there, it's just a hop, skip, and a jump to mainstays like Meddlesome Moth, Pie Tap, and The Charles (and its sexy counterpart, Bar Charles) to relative newcomers The Mexican for tequila out the wazoo and Carbone Vino for delightful wines.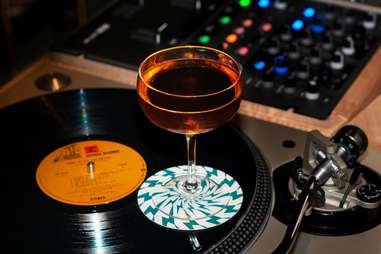 8. Downtown
Not so long ago, Downtown Dallas was for the most part a ghost town after 5 pm except for a few after-work watering holes and ubiquitous, but often underwhelming, hotel bars. Thankfully that has all changed and our central business district is now as happening a place for nightlife as it is closing multi-billion-dollar oil deals over medium-rare steaks. Now, within the downtown area, you can find several hot spots. The newish AT&T Discovery District makes a great home base with live music haven Jaxon Beer Garden, and the Double Tap bar and adjoining patio at food hall The Exchange. Across the street at the luxe property, The Adolphus Hotel, one of the city's most unexpected dives (Rodeo Bar) serves great burgers, cheap drinks, and a laid back vibe. Nearby you can also quickly access Pegasus City Brewery, swanky cocktail bar The Mitchell, Midnight Rambler below street level at The Joule, rooftop bar Waterproof and basement speakeasy Bourbon & Banter at The Statler, and sports bar One Eyed Penguin.
7. Deep Ellum
East of Downtown Dallas is one of the city's most storied districts—Deep Ellum. The entertainment zone has gone through bad times and resurgences aplenty, but it's back on a major upward trajectory and now is one of the hottest residential neighborhoods for young professionals in addition to a favorite destination hangout for non-residents. Here you can get a tattoo, piercing, and some legal weed products at shops within a few feet of each other, but it will probably always be favored for its bars and live music venues. Adair's Saloon is a primo honky-tonk, Twilite Lounge offers New Orleans-style cocktails, Truth & Alibi takes you on a secret mission to its speakeasy beneath a fake candy store, Deep Ellum Brewing Company pours plenty of beers for brew lovers, and Federales lets you get out your frustrations after shooting tequila by smashing the ice-made shot glasses against a giant bell to make it ring.
6. Harwood District/Victory Park
Set between Downtown and Uptown are two districts that blur together geographically, making it easy to hang out in one or both on any given late night. The Harwood District is home to Elephant East (a gorgeous southeast Asian restaurant with a fun bar and lounge scene), Harwood Arms (a casual British pub), Happiest Hour (a fab place to drink on a double-decker, 12,000-square-foot outdoor space), and Te Deseo (a Latin American hotspot). Within Victory Park, home to the American Airlines Center, you can imbibe inside W Dallas-Victory at The Living Room (a chic cowboy-themed haunt), grab a beer at Billy Can Can (a fancy saloon), sip on vino at Burgundy Swine (a charming wine bar), play games or watch a professional sport on TV at Hero (a massive gastropub), or savor some of the best zero-proof cocktails—as well as full-booze options—at Royal 38 (a popular craft cocktail destination).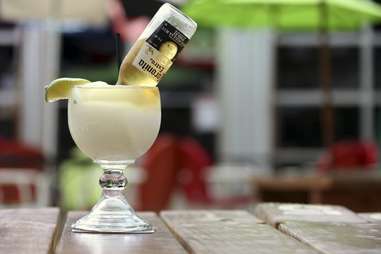 5. Uptown
Head to Uptown and you'll find pockets of drinking spots. Plus, at least for a portion of your night out you can take advantage of the free McKinney Avenue Trolley. Must-stops include the Rattlesnake Bar inside The Ritz-Carlton Dallas, Moxie's for cocktails and selfies or Sixty Vines for tons of wines on tap in the Crescent Court, Haywire, and a trio of always-hot cocktail dens, Bowen House, Parliament, and The Standard Pour. Further up McKinney Avenue, Uptown's main corridor, make time for Upside West Village at the Canopy by Hilton for its downtown views, Quarter Bar for a taste of NOLA, The Rustic for live music in a massive backyard space, and Mutts Canine Cantina if your favorite drinking buddy happens to be your dog. And Katy Trail Ice House will always be the best place for boozy beverages and watching people as they run, skate, jog, walk, and cycle by.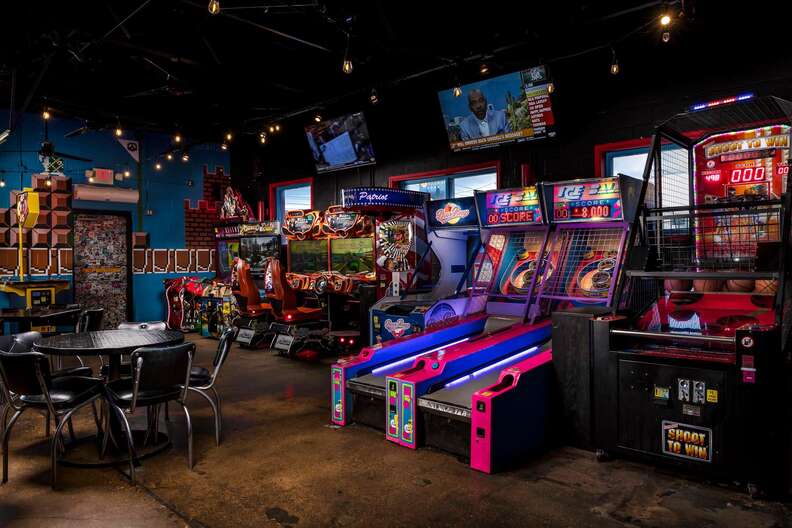 4. Henderson Avenue
On one side of 75 Central Expressway, you've got Henderson Avenue. On the other, Knox Street. They're two distinct and separate neighborhoods that for years have been lumped together as one much bigger neighborhood referred to as Knox/Henderson. But when it comes to drinking, the Henderson Avenue side wins by a landslide (not that there's any kind of real rivalry). Just know that you can find plenty to do on each side without ever having to cross over the freeway, but stick to Henderson for more of a party scene than the pure drinking-in-a-restaurant vibe over on Knox. Henderson bars include Whippersnapper (home to elaborate entire-concept theme takeovers such as The Family Guy, Friends, and Game of Thrones), Barcadia (a retro spot for chugging hard seltzers while playing Ms. Pac-Man), Louie's (a dive for cold martinis and thin-crust pizza), Henderson Tap House (a haven for beer nerds and sports fans), Sfuzzi (an Italian joint known for its signature frozen bellinis), The Skellig (an Irish pub), The Old Monk (a European pub), and Barcelona Wine Bar (a chic Spanish-style tapas and wine joint).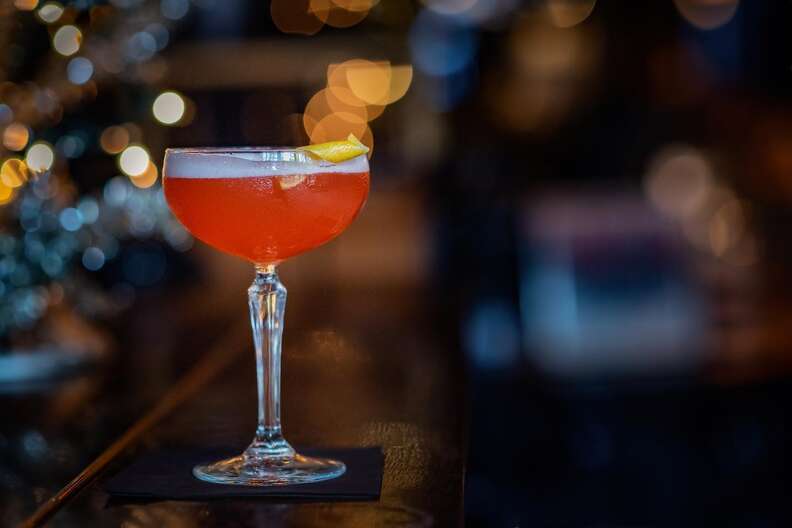 3. Bishop Arts District
Anyone who hasn't been to the Bishop Arts District in the last year or two might be shocked by the expansions that have taken place. The historic buildings with their cozy bars, street cafes, and local retail boutiques remain, but in several directions, the district has expanded with modern development while still mostly keeping with the funky origins of nightlife here. It's only partly because Bishop Arts is so truly, entirely walkable that it earns such a high ranking, but also because the bars down here are so downright cool—many without even trying. Well over a dozen drinking hotspots can be found along the streets and tucked behind buildings, but a sampling of the most notable include The Wild Detectives (also a bookstore!), Ten Bells Tavern, Oak Cliff Social Club, Whitehall Exchange, Coco's Fire & Ice, Parker & Barrows, Bar Eden Lounge at Paradiso, Casablanca, and Revelers Hall, one of the best places for jazz outside the New Orleans French Quarter.
2. Oak Lawn
The Dallas LGBTQIA+ community ranks tops among all Texas cities and sixth overall in the nation, so its central entertainment district (lovingly called the gayborhood by many) offers one of the most robust nightlife scenes anywhere. From unfussy spots for happy hour to high-energy dance clubs, piano bars with live music to honky tonks for country-western two-stepping, drag bars to bars featuring male dancers, the strip on Cedar Springs in the Oak Lawn neighborhood offers so much for both LGBTQIA+ people and their allies and supporters looking for a fun time. Bars and nightclubs that embrace the queer community in this small three-four block area include Cedar Springs Tap House, Mr. Misster, Alexandre's, Sue Ellen's, The Round-Up Saloon, Station 4 (S4), The Rose Room, TMC, JR's Bar & Grill, Roy G's, Dallas Woody's, Lava Lounge, and a truly mixed crowd from every walk of life at the swanky Library Bar inside the Warwick Melrose Hotel.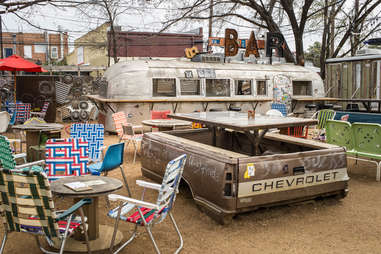 1. Lower Greenville/Lowest Greenville
The stretch of (the very long) Greenville Avenue that falls south of Mockingbird Lane known as Lower Greenville itself falls into two smaller regions: Upper Lower Greenville, and Lowest Greenville. Though it would be a bit of a trek to spend a night popping between bars in both sections, it's entirely possible to get a healthy amount of partying under your belt by lingering in one or the other for the night. Within each part, you can easily walk between holes-in-the-wall and fancier lounges, but you might also fall in love with one spot and hang there all night. It happens. On the upper side, Sundown at Granada, Life's Good Bar & Grill, Bar 3606, and Stan's Blue Note always draw big crowds. On Lowest Greenville, Truck Yard, the rooftop at HG Sply Co., Single Wide, The Libertine Bar, Alamo Club, Hide, Leela's Wine Bar, Apothecary, and Rye keep the party going every night of the week.
Steven Lindsey is an enthusiastic eater who's never turned down a craft cocktail, glass of wine, or cold beer. He thinks dogs are the greatest creation ever and anxiously awaits his Covid hair growing long enough to finally donate to a children's charity. But when it comes to travel, he prefers people leave their kids at home and that's why he founded Travel Like An Adult.